"Umami Memorial" Symposium held at ACS Annual Meeting
One hundred ten years after its discovery, umami celebrated its birthday in New Orleans during the annual meeting of the American Chemical Society (ACS), on March 18, 2018.
Rather than cake and ice cream, the "110th Umami Memorial Symposium: Past, Present, Future" featured a range of renowned scientists and historians from the U.S. and Japan who shared both factual and cultural commentary about umami, the 5th taste. Misconceptions about monosodium glutamate (MSG), which some have called "the purest form of umami," also were addressed.
According to the International Glutamate Information Service, "It is fitting that this venue was chosen to commemorate the anniversary of umami, as this is the same society where 106 years ago the Japanese Professor and Chemist Kikunae Ikeda gave a talk about his detailed evaluation of the 'glutamic taste' and the laborious process of its chemical isolation from the Japanese kelp broth." Ikeda was the first scientist to identify the unique properties of glutamate. He decided to temporarily name the taste of glutamate "umami," which has endured ever since.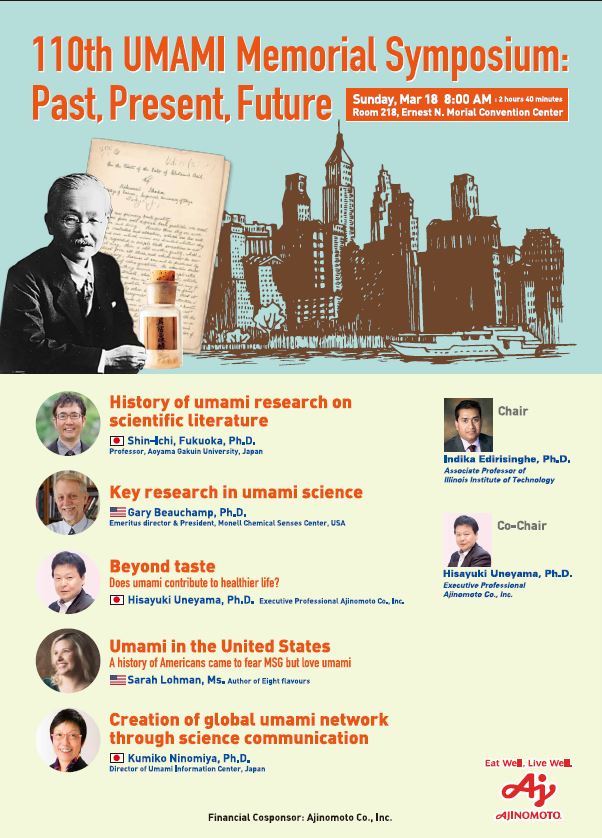 This development was a milestone in the industrial production of food, together with other important innovations of that time, such as the stock cubes of Julius Maggi or the dry soup of C.H. Theodor Knorr. Food industry innovation accelerated in the 1900s thanks to the contribution of microbiologists, medical doctors, chemists and entrepreneurs who were looking for new solutions to problems facing consumers. Ikeda's driving goal was to improve the nutrition of the Japanese with his umami seasoning.
Sarah Lohman, author of "Eight Flavors: The Untold Story of American Cuisine," was among the featured speakers at the symposium. She discussed myths and misunderstandings about MSG. In an interview with the digital news source Quartz, she noted, "It is important to talk about MSG, because it's important to educate and to get rid of ignorance wherever it exists, particularly when it comes to talking about science."
The symposium examined the progress of umami research through time, with speakers including Gary Beauchamp, emeritus director & president of Monell Chemical Senses Center; Shin-Ichi Fukuoka, Aoyama Gakuin University; Kumiko Ninomiya, Umami Information Center; and Hisayuki Uenyama, Ajinomoto Co., Inc. (the symposium's co-sponsor).
The International Glutamate Information Service (IGIS) is a non-profit organization communicating science-based information about umami, glutamate, and MSG.
# # #